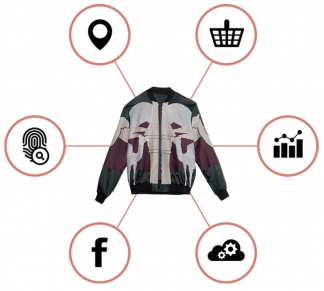 NEWS: Smart Garments Offer Digital Experiences
03-11-2016
Avery Dennison Retail Branding and Information Solutions (RBIS), and IoT Smart Products Platform provider EVRYTHNG, have announced a cutting-edge collaboration with New York fashion brand Rochambeau to produce an exclusive Fall/Winter run of 'BRIGHT BMBR' connected jackets powered by Avery Dennison's Janela™ platform and EVRYTHNG's intelligent IoT cloud.
The #BornDigital garments offer consumers exclusive dining, art, retail and fashion experiences. The retail launch will take place in early December, via its exclusive retail partner The New Stand, a New York-based next-generation experiential retail store that delivers new physical and digital experiences, combining products, media, brands, and commerce.
Rochambeau has produced 15 individually numbered, connected jackets, each capable of unlocking a hand-picked selection of unique New York City restaurant, gallery, club, retail and fashion choices. The left sleeve of the smart jacket features a hidden zipper pocket containing a limited-edition label with a custom NFC chip and personalized QR code. Triggered by the consumers' smartphone, each garment, offers a VIP pass to an exclusive event, hand-picked by Rochambeau's founders.
Each 'BRIGHT BMBR' also comes with personalized gifts that can be collected by using a phone to scan the garment when the consumer is wearing the jacket within 500 yards of any of The New Stand's three retail outlets. The jackets also unlock other unique content.
Andy Hobsbawm, CMO and co-founder at EVRYTHNG, commented:, "Every forward-thinking fashion brand and retailer is working out how to combine physical stores with digital media and services, all powered by intelligent data platforms to personalize the experience of buying and owning products. This highly innovative, physical-digital partnership adds cloud software capabilities to physical apparel to show how it's done."
Deon Stander, vice president and general manager of Avery Dennison's RBIS division, said, "We are delighted to collaborate with Rochambeau and demonstrate how adding digital identities to garments creates a valuable, new channel for consumer engagement to support our retail brand customers."
The 'BRIGHT BMBR' smart product experience can be previewed at http://brightbmbr.nyc.
REGISTER FOR
AIPIA CONGRESS NOW
News overview