Premium ginseng products protected by 'colour-shifting, trackable' labels
| 10-02-2021 |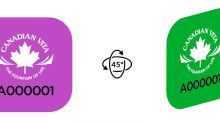 Nanotech Security Corp, which develops secure nano-optic security features used in government and banknote and brand protection, has won new brand protection business with Canadian Vita, that country's leading ginseng supplier. Nanotech will supply custom LumaChrome™ colour-shifting labels with printed logos and trackable serial numbers for Canadian Vita's ginseng products.
"Counterfeit ginseng products are a major industry problem that can be very harmful to consumers," said Canadian Vita CEO Hieu Tran. "These labels will help us fight counterfeit products and ensure our brand remains as a reliable source of safe, premium ginseng products. The labels will confirm Canadian Vita products are authentic and meet quality standards. This collaboration with Nanotech is a major milestone as it has helped us set higher standards in the ginseng industry."
"LumaChrome and other anti-counterfeiting solutions enable companies like Canadian Vita to secure its products and extend brand awareness through the entire supply chain," said Nanotech Security president and CEO Troy Bullock. "This consumer-packaged goods win continues to validate our strategy of developing a portfolio of products to address the multi-billion-dollar problem of counterfeit consumer goods."
The labels offer straightforward authentication through a crisp colour transition when the viewing angle is changed. It is intuitive to use and easy to recognize at a considerable distance, multiple angles, and variable lighting conditions. These colour transitions are extremely difficult to simulate, requiring sophisticated production equipment and specialized knowledge in thin-film optics to produce, says the company. New LumaChrome formats can easily integrate into track & trace, smart packaging, and brand protection applications, it claims.
« News feed