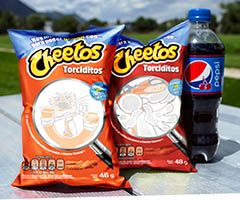 NEWS: Photochromics Add Fun to Cheetos Promotion
11-12-2017
Chromatic Technologies Inc. (CTI), based in Colorado Springs, expanded its photochromic ink capability throughout Mexico with a Cheetos-exclusive promotion: "Where is Chester?", in late summer and autumn. The brand hid Chester from its bags, making him visible only by exposing the package to sunlight, so grabbing consumers' attention, and bringing awareness to the promotion, according to a recent article in PKN, Australia.
Consumers could find free product and coupons with points to redeem for amazing prizes such as Chester footwear, Chester clothing, and a Chester selfie stick inside every Cheetos bag. There were 16 different "poses" of Chester across several Cheetos portfolios. The bags display a magnifying glass and a white circle until the package is taken into the sunlight. There, Chester's brand character appeared, behind the magnifying glass.
"One of the challenges of using smart technology is finding an application that just isn't a 'gimmick,' but that has a meaningful connection to the brand," explained Barry McCann, new launch leader for CTI. "The ultimate goal is to lift product sales, but for lasting power, it has to speak to the consumer in a way that reinforces the brand personality and promise."
CTI custom-developed the orange and charcoal photochromic inks, working with the converter American Poly del Norte in Mexico. From a technical perspective, the Frito-Lay Mexico promotion is believed to be the largest commercialization and distribution of photochromic technology on a major CPG brand to date, anywhere in the world.
News overview