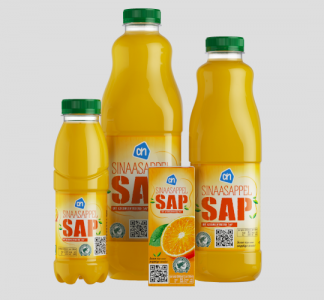 NEWS: Orange juice gets Blockchain treatment at Albert Heijn
03-10-2018
Consumers buying orange juice at Dutch retailer Albert Heijn can follow the route of their product through blockchain thanks to a partnership between AH and Refresco. The partners have clarified the production chain of the store's own brand sustainable orange juice with blockchain technology.
Refresco supplies the juice, which comes from Louis Dreyfus Company (LDC Juice). Through a QR code on the packaging customers can see which route the juice travelled to reach the shelf. This complete traceability offers transparency for consumers.
Marit van Egmond, commercial director Albert Heijn: 'Every day we provide millions of customers with food and drinks. That is a big responsibility, in which we want to make an active contribution to the themes that play around us. Transparency in the chain is becoming increasingly important. We know all the steps that our products in the chain go through to ensure that they are produced with respect for people, animals and the environment. We want to show these steps to our customers."
With 11,000 suppliers for its own brand products Albert Heijn, the company says some production process can be made relatively easy to understand, for example with fruit and vegetables from the Netherlands. For other products it is more difficult because they have a longer chain or consist of several ingredients. Using blockchain shows customers how and by whom these products are made.
The data from the various steps in the production chain are linked and made transparent. The blockchain has been developed in collaboration with technology partner Supply Chain Information Management (SIM).
Customers can use a QR code on the packaging to follow the entire route that their orange juice travels before they reach their shopping cart. Starting at the orange groves of LDC Juice in Brazil where the fruits are harvested. The blockchain contains information about the oranges themselves, such as the picking period and degree of sweetness. Customers can view the details in the chain and even pay a compliment to the growers with the 'Like2Farmer' functionality.
Maarten Kusters, managing director of Refresco Benelux added, 'This is a unique way to bring the grower, processor, bottler, retailer and consumer together and to make the entire process transparent. Refresco is committed to a sustainable fruit juice sector. Last year we founded the Sustainable Juice Covenant, together with several other industry parties. Our goal is to process 100% sustainable juice in our fruit juice products by 2030."
Murilo Parada, head of LDC's Juice Platform said, "LDC completed the first Blockchain for trade in agricultural products in January 2018 and is convinced of the enormous opportunities that this technology offers to enable digital transformation.'
More about this at AIPIA World Congress REGISTER!
News overview