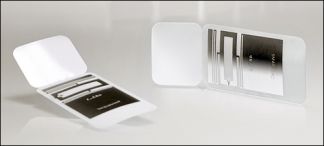 NEWS: New RFID Tag Operates on Metallic Surfaces
10-10-2017
RFID and Internet of Things (IoT) solutions company Smartrac has launched the Midas FlagTag, designed for use on consumer goods and industrial components with metallic, plastic and cardboard surfaces. The design uses the metallic surface as part of the antenna structure which helps to improve performance in less demanding physical environments. It also provides cost advantages compared to foam-based inlays and hard tags typically designed for use on surfaces in tougher industrial environments, it claims.
Traditionally, tagging metallic packaging and liquids has presented a challenge in many applications. The Midas FlagTag is intended for use in authenticating pharmaceutical, retail, health-care and industrial items, as well as for supply-chain and asset-management applications.
The tag features an Impinj Monza R6 IC and utilizes RAIN RFID technology, based on the UHF RFID protocol standard developed by GS1 and ISO. Additionally, the tags are suitable for full IoT integration into Smartrac's Smart Cosmos enablement platform. The tag has a small form factor with a total size of 60mm x 21mm when used as a standard flat paper tag. As a special feature, a flag can be created at the end of the tag with a final paper tag size of 43mm x 21mm after folding, and with an exposed area of 17mm x 21mm.
The folded part of the tag sticks out of the metal resembling a flag, the company explains, and the attached antenna part uses the metal surface as part of the antenna structure to increase tag performance. Read distances of more than 10 metre can be achieved, depending on the geometry and size of the metal object. The tags are compatible with RFID printers for easy printing and encoding.
News overview