New 'RFID Paper' allows customized tag printing 'on demand'
| 05-09-2019 |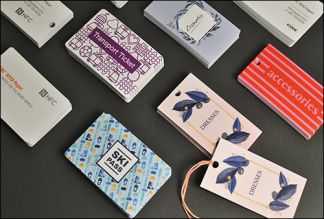 A Russian RFID technology company, ISBC Group, has developed an RFID Paper, which is intended to enable companies to print customized RFID labels in-house and on demand, as a low cost alternative to label-conversion machines or the long rolls of tags currently available, according to an article in RFID Journal recently.
Since its release earlier this year, the HF- or UHF-enabled paper has been used predominantly to print RFID-based cards and badges and apparel tags. RFID Paper can be printed via HP Indigo printers to produce several rows of ready-to-use RFID tags, says Ivan Demidov, ISBC Group's CEO and founder.
Instead of the traditional format of RFID tags on rolls ISBC created a simple paper solution with RFID chips and antennas built into ready-to-print sheets. "We aim at making RFID technologies as available and affordable as any usual sheet-to-sheet printing," he claims..
ISBC says it had to make RFID tags that could be printed using standard readers. The tags must be flat within the paper, so that they can pass the tracks inside the printer. Also they must be able to withstand heating and cooling during the printing process. The sheets should be tolerant of the impact of logistics and storage, as well as able to survive cutting, embossing, punching and folding.
The company now intends to offer its RFID Paper beyond cards and badges, to include NFC cards, apparel tags, hangtags, greeting cards, etc. The availability of RFID tags at printing houses located near the factories that will be using them makes it easier to implement changes at a minimum cost.
The RFID Paper's embedded integrated circuits and antennas can be positioned in the paper as requested by customers. The company claims the paper has no visual bumps after printing, and the antenna positioning accuracy is within 0.1mm. Customers can select a tag size, the only restriction is defined by the antenna size.
In future, customers will be able to build the paper themselves using ISBC's ePerso S2S printing machinery, which is set to be released in early 2020. "That will allow printing houses to personalize the labels inside the sheets," states Demidov.
The sheets can include 13.56 MHz HF tags compliant with the ISO 14443 and 15693 standards, using NXP Semiconductors' MIFARE, NTAG or ICODE chips, or UHF using UCODE 8 chips. ISBC can also enable the printing of combination tags utilizing both HF and UHF technologies. Typically, white RFID Paper—double-sided, digitally ready and with NFC technology built in—costs around 20 cents per tag, though the cost will vary based on memory, cryptography and other NFC features.
To date, the company has produced more than 4.5 million tickets, apparel labels and boxes using RFID Paper.
SEE AT AIPIA WORLD CONGRESS AMSTERDAM NOV 18-19
« News feed