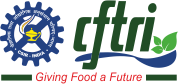 CSIR - CENTRAL FOOD TECHNOLOGICAL RESEARCH INSTITUTE
CSIR−Central Food Technological Research Institute (CFTRI), Mysore (A constituent laboratory of Council of Scientific and Industrial Research, New Delhi) came into existence during 1950 with the great vision of its founders, and a network of inspiring as well as dedicated scientists who had a fascination to pursue in-depth research and development in the areas of food science and technology. Research focus of CSIR-CFTRI has been revolved around broadly into the following areas:
Engineering Sciences
Technology Development
Translational Research
Food Protection and Safety
Food Technology being inter-disciplinary in nature the mandate or vision of the Institute is fulfilled through various R&D Departments and Support Departments along with its Resource Centres at Hyderabad, Lucknow and Mumbai.
Food Product Analysis & Quality Assurance:

Quality of food is inextricably linked to health. Access to sufficient amounts of safe and nutritious food is the key to sustaining life and promoting good health. The Institute provide analytical services, which include the determination of proximate composition, nutritional analysis (oils and fats, milk and milk products, sweets and confectionaries), analysis of food additives (preservatives, synthetic colours, artificial sweeteners, antioxidants, etc.), analysis of food contaminants (heavy metals, pesticides, Aflatoxins, antibiotics, etc.) and microbiological safety for food products. A wide range of science-based food analytical services are offered to food and allied industries through the customer service cell for compliance under the provision of FSSA 2006, Bureau of Indian Standard (BIS), AGMARK, and other national and international standards. Laboratory accreditation is a hallmark of competence and quality assurance. The facility is ISO 17025:2005 certified and accredited for more than 300 analytical parameters for chemical and biological testing of foods.
It has been designated as the Referral Food Laboratory (RFL) by FSSAI, Ministry of Health & Family Welfare, Government of India and facility functions with provisions of the Food Safety & Standards Act 2006 (FSSA 2006), Rules & Regulations 2011, and it contributes in development and implementation of National Food Standards and Regulations for regulatory/academic organizations and for domestic food business as well as imports. The laboratory also provides consultancy in setting up quality assurance laboratories for food and agricultural commodities.
Back to list
Visit website