Lighting up the Day of the Dead digitally
| 18-10-2019 |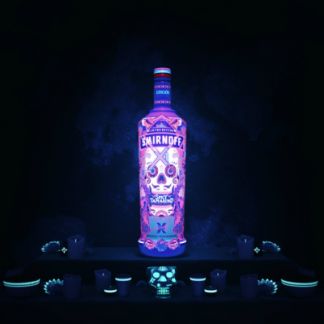 After spending time with the Smirnoff X1 team in Mexico at the Day of the Dead celebrations, brand design agency Vault49 created a concept that captured the vibrant, rich symbolism at the heart of the festivities, according to a report in the UK's Packaging News.
As well as an exciting new development for Smirnoff X1, this work also shows how Vault49 can take a long-established ritual like the Mexican Ofrenda, and re-imagine it for the next generation, it says.The agency was keen to ensure the work felt like a modern interpretation of the traditional Ofrenda, so the combination of graphic patterns, vibrant colours and digital and hand-crafted illustration helped to fulfill this.
To push it one step further, when the agency moved into production of the packaging artwork, they encouraged the use of inks that illuminated in black light, making it relevant for activations in nightclubs and bars – places the Spicy Tamarind Vodka consumer would be
Leigh Chandler, creative director and partner, Vault49, said: "For Smirnoff X1 to truly be at the heart of the celebrations, we needed to ensure that our campaign and limited-edition packaging represented both traditional and contemporary expressions of the festival. Inspired by the craftmanship of the Ofrenda (offering) and its surrounding symbolism, we handcrafted a bottle that pays tribute to Mexican local customs and traditions while adding a contemporary twist for the next generation."
"An Ofrenda is best described as a beautifully chaotic display constructed from a combination of traditional decorations such as Mexican marigolds, papel picados and sugar skulls, together with objects that represent everything the deceased person loved – from foods, drinks, books to ornaments and photographs. We experimented in re-creating this beautiful and chaotic juxtaposition of real objects, photography, paper craft and illustration, using traditional and digital methods," he added.
SEE AT AIPIA WORLD CONGRESS AMSTERDAM NOV 18-19
« News feed