Know your Onions! Edible and biodegradable films for beef pattie packaging
| 21-12-2021 |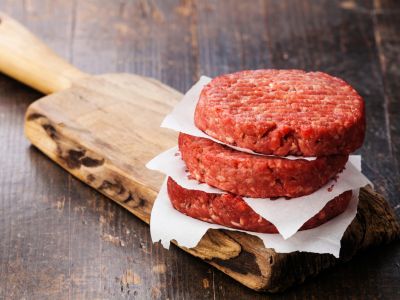 A recent research report published in Molecules magazine investigatesthe antioxidant properties of a biofilm produced from onion pulp and how it could be an attractive primary material for the storage and preservation of processed meat products such as beef patties. Using these biofilms would increase the shelf-life of perishable products, as well as provide protection against microbial contamination, it claims. The research was undertaken in Brazil by several Universities and research organisations.
As we all know beef is one of the most widely consumed animal protein sources in the world. However it is sensitive to changes caused by physical, chemical, and microbiological reactions.
Current petrochemical derived plastic packaging, used to preserve and improve the shelf-life and quality of beef products, while protecting against environmental factors that can induce microbial growth and quality loss, is unsustainable and contributes to waste, say the research. These materials do possess qualities such as low cost, processability and favorable mechanical properties, but these are outweighed by the environmental harm they cause, it asserts.
Onions contain many favorable chemical compounds such as flavonoids. Quercetin, the main flavonoid in onions, has been shown to possess antioxidant and antimicrobial properties. Additionally, many chemical compounds present in onions have high nutritional value. Plus films made from onion display good water vapour barrier and mechanical properties. Cytotoxicity and mutagenicity tests show that onion biofilms pose no risk to human health.
So far, more than 35 different plant species have been used in primary food packaging, with onion being the most promising, it seems. These materials are subject to regulations that set out their safe use as food packaging.
In food packaging, these alternative materials can play a passive or active role depending on the food which is being preserved. Non-passive functions include the antioxidant, nutritional, and sensory characteristics of vegetable and fruit-based packaging.
A key visual factor that influences the purchasing decisions of consumers, when it comes to beef products, is its colour. Oxidation is a major contributing factor in colour changes. Also it causes modifications to amino acids in the meat and causes peptide structures to rupture.
Using the edible onion biofilm stabilized the redness values of the beef patties by slowing down the oxidation process. This was observed for both redness and yellowness values (which are caused by lipid oxidation). The edible onion film also reduced the pH value of the covered beef patties, improving the quality of the product.
« News feed