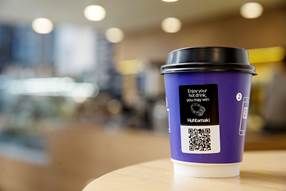 NEWS: Interactive Coffee Cup Hots Up the Coffee Moment
06-09-2017
Huhtamaki has launched an interactive cup featuring a heat sensitive label and a QR code that links to digital content. The Adtone cup has a thermosensitive label that reveals the unique code as the cup is filled with a hot beverage. The heat from the beverage activates the thermochromic printing on the label revealing the QR code.
Customers can then scan this code with their mobile phone and access a website to view some promotions or any digital content that has been loaded. The QR code can be used only once, providing added security for the campaign.
The cup is aimed at enabling brands, cafes and restaurants to run a variety of campaigns, from loyalty rewards to prize winning promotions. It is also a great tool for joint promotions and makes the cup a ideal companion to digitalized media content, they claim.
Becci Eplett, UK marketing manager at Huhtamaki explained, "Packaging has always been a great channel to attract customers and create co-promotion opportunities, but now Huhtamaki have taken that to the next level with the introduction of Adtone. Combining physical product with digital services is the way forward."
"The new Adtone cup gives consumers something they actually want, through something they use every day, delivering a promotional message in a unique and memorable way, helping to create that unique connection between bespoke packaging and the digitally savvy consumer," she added.
News overview