Have a SMART Christmas and even SMARTER 2020 with AIPIA
| 17-12-2019 |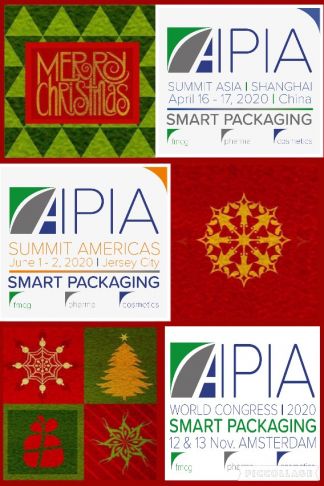 AIPIA is already busy planning for next year, here is our events calendar for the first half of 2020
Seminar ProPak Philippines Manila, early February
Seminar ProPak Vietnam, Ho Chi Minh City (Saigon) late March
AIPIA ASIA SUMMIT, Shanghai 16/17 APRIL
AIPIA SUMMIT of the AMERICAS, New Jersey 1/2 June
Seminar ProPak Asia, Bangkok, Thailand mid June
The Association will also be attending interpack (7-13 May Dusseldorf, Germany) and drupa 2020 (16-26 June) where we are one of the Partners on the exciting Touchpoint Packaging stand, which will feature at least 7 of our members showcasing some of the latest smart printing technologies for the packaging sector.
We are looking for speaker applications for all these events (seminars 3 or 4) Summits will have both speaker and booth opportunities. If you are interested in any/ALL of these contact Martine Groeneveld martine@aipia.info in the first instance.
We'd like to leave 2019 with some interesting facts which should get us all excited about the year ahead:
IN 2019 MORE THAN 20 BILLION RFID TAGS WERE SOLD****
THE GLOBAL SMART PACKAGING MARKET EXPECTED TO REACH $37,797 MILLION BY 2022, @ CAGR OF 7.8%**
BLOCKCHAIN IN THE SUPPLY CHAIN MARKET EXPECTED TO GROW FROM $81.40 MILLION IN 2017 TO $3.5 BILLION BY 2023 @ CAGR 87%***
THERE ARE 3.3 BILLION SMARTPHONE USERS WORLDWIDE - THAT'S 42.63 OF THE GLOBAL POPULATION (5.5 BILLION HAVE MOBILE DEVICES)*
From the team at AIPIA we would like to wish you the merriest of Christmases and look forward to seeing you all again in 2020, participating or attending our events to promote and grow the Smart Packaging sector. Together we are building an industry!
NB Part 2 of the Congress report will appear in the first 2020 Newsletter.
Sources: *bankmycell ** Allied Market Research ***MarketWatch ****IDTechEx
« News feed