HP uses smart packaging and RFID for enhanced customer experience
| 28-05-2019 |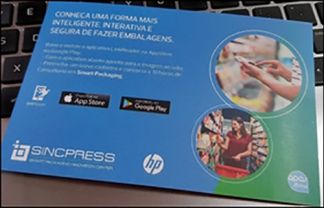 HP Brazil will shortly introduce the integration of radio frequency identification technology (RFID) and smart packaging for its printers. These identify products by means of labels, boxes and other digitally printed materials with elements that are invisible to human eyes, but activate responses in an installed app on smartphones, helping to expand the customer experience.
According to Kami Saidi, HP's head of manufacturing and supply chain operations for Latin America, users of the company's printers can find data that would normally be in a product manual—such as instructions for the operation of equipment — using HP Link technology.
Saidi , speaking during the Apas 2019 Congress explained, "Instead of a lot of printed material going along with each new printer, including DVD-Rom, each new product can provide more information to the customer via a smartphone with the Link reader application already installed." By simply pointing the phone's camera at the printer, using HP's app, the device is recognized. Videos and other specific instructions will then start to be displayed.
Through this initiative, HP seeks to enhance its customers' experience by using the Internet of Things (IoT). With packaging or labels printed digitally via the HP Link technology, each HP product can have its own personalized identity, such as a personal document or an RFID tag. This provides a "secret identity," Saidi said, since it cannot be viewed by human eyes. The printed code resembles a watermark.
Digital printing integrates the design artwork of the packaging, but without interfering with its layout, quality or appearance. In addition, it makes the packaging traceable throughout the value chain. The fingerprint technology can be applied individually to each carton, and can be associated with a GS1 Electronic Product Code (EPC), with the same information recorded on the RFID tags.
The hybrid RFID and smart packaging solution won in the Best Logistics and Supply Chain RFID Implementation category at this year's RFID Journal Awards.
« News feed