Fruit sticker extends freshness by up to 50 per cent
| 02-03-2019 |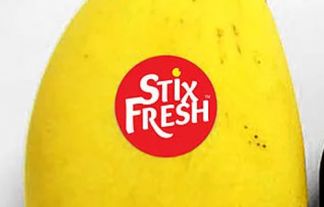 A USA start-up, based in Seattle, aims to combat food waste through a new sticker which it claims can keep fruit fresh for up to 14 days longer. Stixfresh is a label which can be applied directly to fruits which generate ethylene during the ripening process. The sticker's coating is made up of a formula of beeswax and ionised sodium chloride, and has GRAS (generally recognised as safe) status in accordance with the US Food and Drug Administration.
The idea behind Stixfresh was originally developed by Malaysian inventor Zhafri Zainudin. The partnership to introduce the product worldwide began after he met co-founder Moody Soliman during an industry conference in Dubai.
The compounds within the formulation work to create a protective layer around the fruit. Company studies, conducted through collaborations with industry experts, have shown that slowing down the ripening process extends the freshness of a wide variety of fruits by up to 50%. It could have a major impact on fruits that have long transportation routes, with consequent large waste volumes.
The sticker was originally invented to target mangoes, but its use was quickly extended to other fruits of similar size and texture, such as apples, pears, kiwis, avocados, oranges and other citrus fruits. The all natural formulation of the sticker means it too can be eaten, claim the developers.
While the founders see huge potential at the commercial level for large producers, they also believe individual consumers can benefit, making a positive global impact, as well as addressing their own household food waste and saving money.
This month Stixfresh launched a crowdfunding campaign to give consumers the first opportunity to test the product and join the brand in its mission to create the most effective solution possible. They are also looking to develop smaller stickers for fruits with softer skins, such as berries and also vegetables.
« News feed