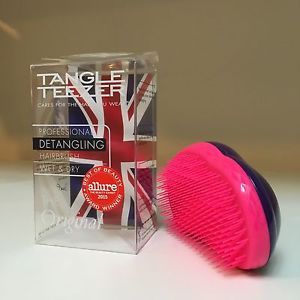 NEWS: Distributors now Share Security and Traceability Platform
29-08-2018
Tangle Teezer® a leading supplier of LifeStyle hairbrushes, designed and made in the UK, has been using the CODIKETT® product security solution since 2015. More than 250 product variants are being sold in over 70 countries. So physical and digital product security, global grey market control, GEO tracking and direct customer communication were major challenges.
The company has also used the CODIKETT® Cloud Platform and integration processes for packaging and shipping. In the digitisation project distributors and their sub-distributors have been integrated into these processes.
Today every accredited distributor is able to share its incoming and outgoing goods with the CODIKETT® system - across all packaging levels: Pallets, shipping boxes and individual items. Data is fully integrable into existing ERP systems or with pre-configured hand scanners.
"Tangle Teezer® has fully embraced digital technology. Using our product security platform as a production planning tool and inventory optimizer coincides with our vision of cross-departmental added value with regard to the introduction of intelligent product security measures," says Marco Linsenmann, CDO at SECURIKETT®, which supplies the CODIKETT® platform.
Tangle Teezer® has seen a number of benefits since it began operating the system. It has been used to increase turnover; reduce time-to-market; align production capacities with predicted demand; and control shrinkage and undesirable flows of goods, it says. Data analysis also helps the sales team to support distributors in their sales processes and inventory management.
"CODIKETT® is no longer just a product security solution - it is much more as it offers an important increase in efficiency for our worldwide distribution management, production planning and numerous other processes," according to Dan Nicholson, the company's head of IT Solutions.
More about this at AIPIA World Congress REGISTER!
News overview