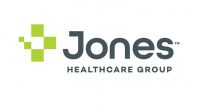 Jones Healthcare Group
Jones Healthcare Group is a world-class provider of advanced packaging and medication dispensing solutions. For over a century our partnerships, knowledge and expertise across healthcare sectors have uniquely positioned us to respond to evolving market needs with insights and opportunities for our customers.
Our full-service offering includes graphic and structural design, print, conversion and filling of multiple packaging components including folding cartons, labels, blisters, pouches and convenience vials, as well as specialized medication adherence and dispensing products and connected packaging.
With roots firmly established in healthcare, Jones has been a long-time, trusted partner for some of the most recognized global pharmaceutical brands and the largest pharmacy groups, independent pharmacies, hospitals and long-term care facilities across the world.
From packaging that protects and informs, to new platforms that improve consumer outcomes – we are invested in advancing wellness.
Back to list
Visit website