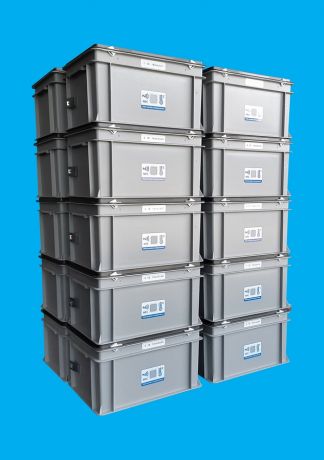 NEWS: Data Loggers for Hospital Drugs in Transit
03-11-2016
The Independent Clinical Public Hospital n°1 in Wrocław, Poland has chosen innovative boxes with integrated temperature traceability from the French/Polish company BluLog, to provide temperature and localisation data for the transport of cytotoxic drugs.
An NFC data logger is installed in the boxes, to record if the temperature is kept between 2 - 8°C. The storage conditions are a most important factor during the transport of drugs or biological material. Even an instantaneous temperature change can cause the deterioration of the substance's quality.
The material is placed in a standard, isothermal box created by and equipped with the NFC data logger from Blulog. Immediately after placing the drugs the medical staff start the temperature recording by positioning an NFC reader on the box's side.
"In this particular case, we chose the Android NFC readers, made by Famoco. The most important factor here is the simplicity of use. All we have to do is to place the reader next to the box for a few seconds to read the data. Another factor was the Wi-Fi access in the building where the packages are sent and received. The reading of the entire temperature data is possible using any smartphone with active 4G and equipped with NFC technology," explained Prof. Kazimierz Kuliczkowski, head of the Hematology, Hematological Malignancies and the Bone Marrow Transplantation Department.
The hospital can access the data in 3 ways – using a NFC reader or an NFC smartphone, with the Bluconsole web application and/or via e-mail, where information is securely stored. Currently, the hospital owns 20 NFC boxes.
"Cytotoxic drugs are highly susceptible to atmospheric conditions and require specific packaging. During the whole transportation process, the drug should be kept within the specified temperature range," said Jérémy Laurens, sales and marketing director at Blulog. When the package arrives the box is once again verified by the medical staff. A diode is present in the NFC data logger to show any temperature excursions. If the diode's color is red, this suggests that the transport's parameters should be verified. The system is thoroughly secure and encrypted, ensuring no potential data manipulation, says the company.
REGISTER FOR
AIPIA CONGRESS NOW
News overview