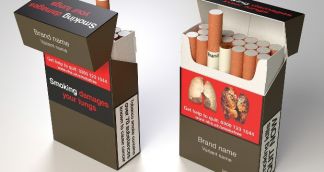 NEWS: Counterfeit Plain Packs of Cigarettes appear in UK
17-11-2017
The Consumer Packaging Manufacturers Alliance (CPMA) has expressed its concern over the discovery of counterfeit tobacco plain packs in the UK according to a recent report in Packaging News. Betterretailing.com reported that the first counterfeit standardised packs of tobacco in the UK were uncovered by Retail Express and trading standards departments.
Following a tip-off, Retail Express was sold a plain pack counterfeit of a premium brand by a London newsagent for £10.50. The retailer reportedly swapped a genuine pack with a fake pack, while processing the card transaction.
In the article it is claimed that the quality and prices of the plain pack counterfeits is creating a two-tier illicit trade, which is something the CPMA's Mike Ridgway had warned of before the standardized pack legislation was introduced.
"It was obvious that this would take place once complexity was taken away from the packaging specification." Ridgway told Packaging News. "The packaging industry warned for years during the debate about ' plain ' packaging that this would happen and accelerate in volume in time possibly linked with organised crime.
With UK tax authority HMRC and Trading Standards supporting this view he commented that both organisations face major challenges in getting to grip with the developing illicit trade market.
Commenting on this development Eef de Ferrante, executive director at AIPIA said, "With cigarettes now costing almost the same as a bottle of spirits, it is time that the tobacco product manufacturers seriously consider authentication using intelligent packs. The move to plain packs looks set to be widely adopted, so it needs action now to avoid consumers being sold fakes. In the UK the plain tobacco packs law comes into force on 20 May 2018.
News overview