Chinese e-cigarette maker adds nanotech tracer to fight fakes
| 08-11-2021 |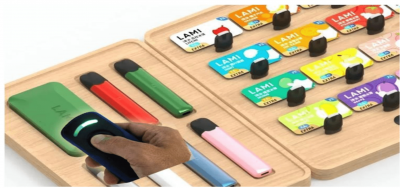 Anti-counterfeit and consumer engagement solutions provider YPB Group, an AIPIA member headquartered in Australia, has secured a three-year take or pay supply contract valued at A$181,000 (RMB870,000) with Chines electronic cigarette and vaporiser technology manufacturer Kingtons Technology, based in Shenzhen.
This contract marks the expansion by YPB into a major, rapidly growing market segment where counterfeit is rife, extremely costly and its consequences potentially fatal, says the company. YPB has previously supplied over 200,000 anti-counterfeit labels to Kingtons, commencing in 2020.
This new contract applies YPB tracer directly into Kingtons' hardware to provide the highest level of anti-counterfeit protection, it claims. The current market in anti-counterfeit solutions for e-cigarette manufacturers is embryonic but significant and this application is revolutionary to this industry. According to Kingtons, there are over 170,000 e-cigarette manufacturers in China alone. Research by Grandview indicates that the current e-cigarette hardware market is valued at US$18.47m per annum and is growing at a CAGR of 28.1%.
SEE DIGITALIZATION IN PACKAGING CONGRESS AGENDA HERE
Under the agreement T2 tracer nano material will be incorporated in the e cigarette and vape hardware, moulded into the actual product, to allow easy detection of fake hardware by a T2 scanner in the supply chain or at retail.
The T2 tracer-scanner is the foundation of YPB's anti-counterfeit technology. It is a patented nanotechnology that can be simply, safely and cost-effectively incorporated into products including ink, varnish, plastics and paper – essentially any product or packaging typically used in mass consumer markets, it says. Opportunities for the company's invisible tracer technology in China are still very significant, it claims
Founded in 2009, Kingtons is focused on electronic cigarette research, design, development, manufacturing and marketing. The group has 20 production lines and 500 employees with a monthly capacity of over 2m kits, many exported to customers in Europe, North and South America and Asia.
John Houston, CEO of YPB commented, "Entering such a dynamic new market as e-cigarette and vape hardware is very exciting. The industry is large, growing rapidly and has major counterfeit issues. Given the sheer number of OEMs across China, the opportunity for YPB is both ripe and significant.
"I'm also pleased that these foundation products and derivatives are still highly relevant to very large markets which are only just beginning to adopt anti-counterfeit solutions. It is significant that that every product in our solution suite has revenue potential well above that being presently achieved," he added.
« News feed