CONGRESS 2019: Kraft Heinz's Innovative Use of NFC in Walmart Stores
| 09-10-2019 |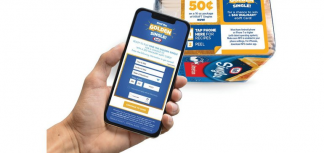 Use of NFC tags and labels for product packaging is increasingly becoming the preferred method for brands to create a secure direct, one-to-one connection with consumers before and after purchase. Exemplifying the growing adoption of NFC, Kraft Heinz has launched one of the largest marketing campaigns in Walmart stores across the US market.
Developed by NXP and TPG Rewards, special Kraft Singles packages now carry a brightly-coloured, NFC-enabled label with opening status detection that invites consumers to tap their smartphone to the packaging to get an offer including recipe content while in store and, after purchase, to play the "Find the Golden Single" game for a chance to win a $50 Walmart eGift Card. Besides, the program also proves a valuable in-retail collateral tracking compliance tool for the brand owner.
Instead of asking shoppers to use their smartphones to scan a QR code printed on packaging, Kraft prompts them hold their mobile devices near a product to activate a mobile page that collects information such as email, place of residence and date of birth to enter the contest.
Co-presented by NXP and TPG, this presentation at the AIPIA Congress will explore Kraft's unique in-store campaign from conception to solution, to deployment to actual results. Additionally this talk will take a look at other advances in NFC, including the much anticipated expanded support by IOS 13 and what it means for the rest of the smart products industry.
SEE AT AIPIA WORLD CONGRESS AMSTERDAM NOV 18-19
« News feed