CBD products use NFC for tracking and authentication
| 10-03-2020 |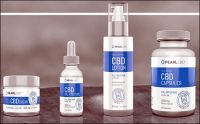 A California hemp-based cannabidiol (CBD) startup, PearlCBD, owned and operated by Origin Lab, is selling products with 'intelligent labels' that uses Near Field Communication (NFC) technology to deliver information to its customers.
It began manufacturing and selling its goods this year, each with a unique ID number encoded on a passive NFC tag built into a label, so that users can verify product authenticity before purchase, as well as view lab test results regarding ingredients and other content, according to RFID journal.
CBD products are sold legally in stores throughout most of the United States, though they must meet restrictions on THC levels which provide the narcotic effect of cannabis. The firm recently released a series of lotions, tinctures, creams and capsules which are being sold by several major retailers. The technology helps consumers get acquainted with CBD and understand what is in each product.
Company CEO Danny Davis says he chose NFC as a means of providing consumers with proof that his company's products are authentic, and to offer transparency. "We believe that if we took a pharmaceutical product and gave consumers technology to understand it better, they would then trust that product, and we can build brand loyalty," he explains. Each product package now comes with a 13.56 MHz NFC tag, compliant with the ISO 14443 standard, built into its labels.
The tag is embedded into the label rather than being fixed to an existing package or label. That, Davis says, helps to prevent errors that could occur if an NFC tag were placed on the wrong bottle after it was filled. Growers identify which oils they have generated. That information is forwarded to the lab so that the containers can be prepared in advance. The NFC-enabled labels can be printed onsite, with each NFC ID number linked to that specific product and the oil batches contained in it.
The product can be shipped directly to online buyers or to stores. In either scenario, consumers can learn about it using their NFC-enabled smartphone. The system will link the NFC tag ID with a dedicated website and display authentication information.
Also the phone can display lab certification results, as well as a choice of videos about the product to explain how it is used. No app is required to access the NFC-based data. The solution has a patent pending for the NFC labelling. So the company hopes to sell the system to other companies in the cannabis market or other sectors.
« News feed