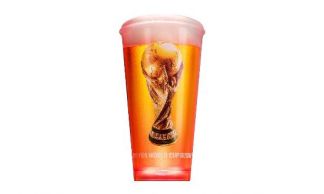 NEWS: Budweiser Gets Loud About the FIFA World Cup
25-06-2018
Budweiser has launched noise-activated cups and a two-hour delivery service with Amazon during the FIFA World Cup, according to a report in Packaging News. The beer brand is launching Red Light Cups – what it claims are the first-ever noise-activated cups which light up as cheering, clapping and excitement gets louder during games. In addition the company has announced limited-edition Wold Cup packaging.
Anheuser Busch launched a similar product for its Bud Light brand at this year's USA Superbowl, where the cup lit up when scores or team announcements happened (see AIPIA News 14/2/18). Unlike this latest innovation, they were not voice activated.
Currently there is no information about the technology used for the Red Light Cups.
The Red Light Cup will be available with Budweiser packs at Asda stores in the UK nationwide, as well as being available via on-pack competitions. The beer giant has also teamed up with Amazon Prime Now to work with retailers during the FIFA World Cup to offer a two-hour delivery service for consumers. This service allows Budweiser to tap into the estimated 44 million people watching the tournament in the UK, with up to 90% of fans watching games at home.
Budweiser is also releasing the design in alu-bottle format – aluminium bottles chill quicker and it is claimed tap into lucrative impulse purchase behaviour. Additionally, the beer giant is launching an on-pack competition giveaway offering consumers the chance to win tickets to the FIFA World Cup final.
Sascha Cordes, senior brand manager at Budweiser UK, said: "The 2018 FIFA World Cup is more than just an event, it's an epic global celebration that brings together the whole of the UK. Via our range of activations and pack formats, we're providing support to customers so that they can harness the energy and excitement of football fans to drive footfall into stores and increase rate of purchase."
News overview