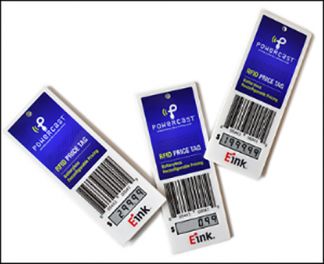 NEWS: Batteryless RFID Label Can Change Price Data
06-07-2018
Powercast is launching a revolutionary new power-harvesting RFID label, known as the Batteryless Electronic UHF Retail Price Tag, according to an article in RFID Journal. It enables RFID-based updating of electronic paper (e-paper) information, such as prices for retail shelves. The company is partnering with systems integrators that could develop their own solution for stores.
The "power-over-distance" wireless charging price tag has a built-in UHF RFID transponder and an E Ink display screen, as well as Powercast's PCC110 Powerharvester chip. When interrogated, the label can not only follow a command sent by that interrogator—such as changing pricing information—but it also uses RF-to-DC power harvesting to enable those actions, says Charles Greene, Powercast's COO and CTO.
Earlier, Powercast released an RFID sensor tag known as the PCT100, which uses the power of an interrogator to energize sensors and respond with sensor data via a UHF transmission. The tag can include temperature, humidity and light sensors.
The new price tag is aimed at the retail market, as many of them, especially large chains, change their prices and other descriptive data on a regular basis, across the entire company's outlets. If headquarters assigns a new price to an item or range, such as a temporary discount, locations across a particular region, or the entire country, must then go about changing those prices.
If paper shelf labels are used, new labels must be printed and manually replaced. Electronic shelf labels offer an alternative, the company says. But electronic shelf labels can be expensive and most are wired to enable communication with a back-end server that sends pricing updates. As an alternative the labels could include batteries to power the capture and display of RFID-based data, but those batteries would then need to be replaced. So if there were thousands of labels in use at a large store, keeping track of the batteries could be an exhausting process.
With Powercast's battery-less price label, the store operative requires only a handheld reader that stores pricing data or can access that information via a wifi connection. Stores could configure the software in a multitude of ways, such as linking each unique ID number on a label with a specific product, so that the new prices could be linked to that ID during interrogation.
Conversely, stores could link changes to a zone of products. So a handheld reader could access prices for a particular department by reading a tag ID dedicated to that zone. Scanning bar codes would be another alternative to link a specific zone or stock-keeping unit (SKU) to specific price changes, Greene says.
News overview