All in one Brand protection and consumer engagement with NFC
| 03-12-2019 |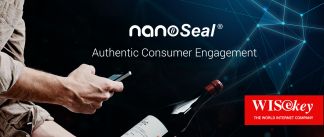 WISeKey International Holding, a Swiss based cybersecurity and IoT company, is presenting its new NanoSealRT NFC Secure Element. This introduces the concept of Authentic Consumer Engagement, the combination of digital brand protection with simple to use consumer engagement options that help brands defend their reputation and create new avenues for connecting with their customers in a single platform, says the company.
This Near Field Communication (NFC) secure element allows any object to securely authenticate itself and communicate online through any NFC enabled smartphone . It includes features such as a one-tap Android & iOS compatible authentication algorithm, tamper/opening detection and long-range radio communication. The NanoSealRT® improves goods traceability and enhances direct-to-consumer digital strategies, according to the company.
It believes tracking and tracing products through the supply chain is extremely complex and even if authentic goods make it to their retail locations safely, there is still the need to find unique ways to engage the end-customers and win their business. So far, the choices have been to protect goods with one technology and attract customers with another disconnected one, it claims.
"NanoSealRT is the only ISO15693 chip on the market today that combines so many specific features designed for brand protection and consumer engagement in an easy to deploy affordable package," said Olivier Debelleix, director of brand protection & wearable security business unit for WISeKey. "Its long-range communication combined with the simple and fast one-tap authentication offers an effortless customer experience while removing the constraints and risks of high-volume manufacturing."
« News feed