African smart packaging start up in pilot to track Afgan meds
| 22-09-2020 |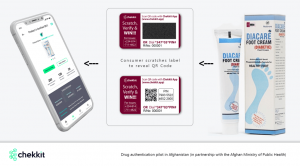 Just to prove that Smart Packaging is developing a truly global footprint, last week, Chekkit Technologies, a Nigerian startup, founded in 2018, that offers product verification, anti-counterfeiting solutions, announced that it secured a partnership to pilot its technology in Afghanistan for pharmaceutical products.
Dare Odumade, CEO of Chekkit say this solution helps to protect manufacturers and consumers against food and drug counterfeits. Consumers can verify products by scanning barcodes or using USSD for confirmation. Additionally, the company provides insights on consumers to the manufacturers, who can act on it by offeering rewards and loyalty programs or upsell/cross-sell to customers.
Odumade, in an interview with Techpoint Africa, said that the company has been in talks with major players in the Nigerian health space to run a pilot for some time. Currently it is involved in the NAFDAC serialisation plans for pharmaceuticals through collaborations with the non-profit organisation GS1 Nigeria.
However, it's in Asia the company is getting its first big break. In November 2019, Chekkit finished the first runner up in a blockchain pitch competition at the AfricArena Summit. The competition was sponsored by Fantom, a DAG-based smart contract platform that was already in talks with the Ministry of Health in Afghanistan to help the country with its pharma product counterfeiting problem.
After the event, the ministry signed an MoU with Fantom and Chekkit to partner in a 3-month pilot project that will see Chekkit's product being used to track and verify 80,000 pharmaceutical products sold in the country.
In addition to a serial number, the IDs will include a product stock-keeping unit (SKU), production date, expiry date, and registration number. The codes are supplied as scratch-off sticker labels that are applied to the medicine pack. When the QR code is exposed consumers can verify the authenticity of the drugs by scanning it using a dedicated Chekkit app – and see other information, such as expiry date.
The Chekkit labels also contain taggants which can be verified using hand-held devices at various points in the supply chain, including at the point of entry of a product into Afghanistan as well as during in-store inspections at drug retail outlets
"Through this partnership, we will provide the pharma companies involved with valuable consumer insights and a reward program to encourage purchase and verification by buyers. We will also give the government/ministry a transparent view of the pharmaceutical market. On completion of a successful pilot, we envisage our technology being deployed across the board for all medicines coming into Afghanistan," Odumade says.
You still have time to REGISTER and visit the ENTIRE Virtual Congress – every presentation, every booth – including an extra LIVE day in the booth area on October 7th.
« News feed