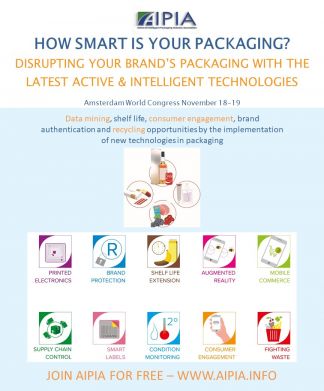 NEWS: AIPIA WORLD CONGRESS 2019: The ONLY place to get the complete picture
29-08-2019
The whole world of Active & Intelligent Packaging meets together in only one place: Amsterdam.
Now in its 8th edition, the AIPIA World Congress in Amsterdam (18/19 November) has developed into the most comprehensive and authoritative event for the Active & Intelligent Packaging sector. The 2019 event is already attracting more companies wishing to exhibit their innovations and ideas than ever before. The Seeing is Believing demonstration area is expanding in the iconic Beurs van Berlage venue in central Amsterdam to accommodate the demand.
Brand Owners have responded in increasing numbers each year to both the format and the content of the Congress." The focus is on real business development for A&IP technologies, not just another series of workshops and panels", explains AIPIA's managing director Eef de Ferrante. "We are working with our members to build an industry, not just to run another conference," he added.
Over 40 speakers will offer not only a window on the latest developments but, importantly, how these can be combined to offer complete solutions to Brand Owners. With over 400 delegates expected the event offers unrivalled networking and discovery opportunities.
"More contacts are made and deals initiated at the AIPIA Congress than any other event of its kind," claims de Ferrante. "But that is not a difficult claim to make because our event is unique for this sector. There are several other excellent events for RFID/NFC, Printed Electronics and areas such as active material innovation," he explained. "But it is only the AIPIA Congress which brings the whole eco-system all together and works with the Brand Owners to give them a full business context in terms of their packaging."
"In Amsterdam we like to think we are at the heart of things. There are great transport connections and plenty of good, moderately priced hotels, a great place for an international event," said Martine Groeneveld project director for the Congress. "In a previous event we invited people to come and enjoy some Brain Training. Well, this year we have adopted the slogan of another great Dutch city, Eindhoven, to describe the AIPIA Congress this year. Just think of us as a Brain Port! Just plug in to come and learn all you need to know about Active & Intelligent Packaging."
Details of the agenda (updated in real time) for the AIPIA Congress 2019 are on the website, together with delegate fees and accommodation links. To book your place, or learn about speaking opportunities or how to exhibit (but hurry on that, there is already limited availability) just Click: AIPIA WORLD CONGRESS 2019
Press enquiries: contact Andrew Manly: andrew@aipia.info
News overview