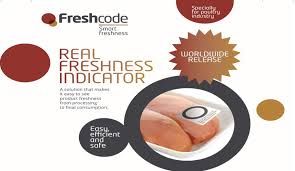 NEWS: Real Finger Lickin' Freshness Just Got Smarter
30-08-2017
FRESHCODE is a smart labelling system, which has been developed by packaging research institute, ITENE, based in Spain and Kao Chimigraf, also from Spain, as part of a European Commission funded SME programme. It is an advanced solution for fresh food trays, specifically for boneless chicken breast fillets in modified atmosphere packaging.
It is a unique and new intelligent label patented which displays the guaranteed real freshness of packaged chicken with a visual colour indicator. This freshness is in plain view throughout the handling, storage, distribution and sale of packaged chicken, say the partners. It has been specially developed for distribution chains, poultry product processors and packers.
The indicator offers a more cutting-edge alternative to traditional smart packaging, in response to the increasingly strict EU rules on food labelling. It is therefore a product with high technological added value that provides huge product differentiation throughout the production and supply chain, in addition to high operational reliability, they claim.
Mercedes Hortal, director of ITENE packaging research institute in Madrid and Sergio Segui Romera business development manager of FRESHCODE at Kao Chimigraf will explain, during their Congress presentation, how this groundbreaking approach to fighting food waste was developed and where it might lead in the continuing fight against food contamination and security in more complex supply chains and retail environments.
Information on Sergio's presentation here!
News overview