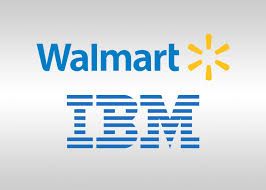 NEWS: Walmart Ramping Up Blockchain Use
04-05-2018
Several recent announcements from Walmart demonstrate its strategic move towards the use of Blockchain technologies in a number of activities. The application to patent its 'Smart Package' system was released by the US Patent and Trademark Office in early March.
The 'Smart Package' patent employs a Blockchain-based tool to track package contents, environmental conditions, location, and other details. The device described in the application is intended to be used in new technologies like autonomous vehicles and unmanned drones. According to the application, Blockchain will record the 'key addresses along the chain' such as seller private key address, a courier private key address, and a buyer private key address.
The retail giant noted the need to design a tool providing greater security in the packaging that the items are shipped in.
Also it is getting suppliers to put food on Blockchain to help reduce waste, better manage contamination cases and improve transparency. The retailer started running tests with IBM's blockchain platform in 2016 and is now ready to use the technology on its live food business, according to Frank Yiannas, vice president of food safety and health.
He said Blockchain was able to cut the time it took to track produce to two seconds from six days. In November of that year it used IBM Platform to detect and remove recalled foods from its products list.
Late last year, in further move to apply Blockchain technology for food traceability to support offline and online consumers, IBM, Walmart and Chinese retailer JD.com, together with Tsinghua University National Engineering Laboratory for E-Commerce Technologies, announced a Blockchain Food Safety Alliance collaboration to improve food tracking and safety in China.
By collaborating with one of China's largest retailers and their suppliers, the latest effort is being hailed as creating a safer food supply to China. It is an extension of the work initiated earlier by Walmart and IBM.
All about A&IP Summit
June4-5, Jersey City
News overview