The best beer cap in the world? Probably…..
| 05-09-2019 |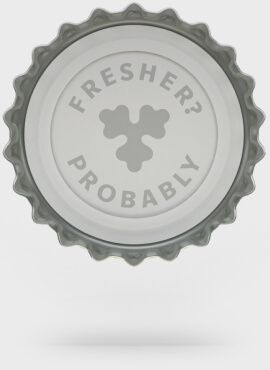 Carlsberg's belief is that 'fresher beer equals better beer'. So its Fresh Cap innovation has been designed to reduce oxidation via an oxygen scavenging compound inside the liner of the cap. This results in less oxygen in the bottle, because the cap actively absorbs the gas, removing it from the head space.
The introduction of the cap, initially it seems for Asian markets, coincides with a complete makeover of the packaging for the famous pilsner brand, which is being touted as 'New Look for the Same Great Brew'. Currently AIPIA is not aware if this is an 'in house' innovation or outsourced.
As freshness is one of the factors defining better beer, Carlsberg always aspires to find ways of keeping its bottled beer fresher for as long as possible – and to secure better beer quality, it is important to control the amount of oxygen in the bottle. When beer is exposed to oxygen, it begins to oxidise, resulting in unwanted flavours.
The reduction of flavour oxidation ensures that the beer tastes fresher for longer, it says . The solution promises up to a 15% longer freshness period compared to other conventional caps on the market, over the full shelf life of a product.
While it is known as Fresh Cap in several markets, in Vietnam it will be called the ZerO2 cap, where it has been introduced on Carlsberg Premium Smooth Draught – one of the company's key products in that market.
Stefano Clini, managing director, Carlsberg Vietnam commented, "At Carlsberg, we're consistently striving to do better, and while there are big things we can do in our operations, in our communities, and in our production that can make a difference, we also believe that attention to small details can have a major impact on what we deliver to society. Our new ZerO2 bottle cap is in many ways a culmination of this belief. We discovered that by rethinking how we design the lids of our bottles, we could deliver an even better product to consumers – which just goes to show that no detail can be overlooked on the path to progress," he said.
SEE AT AIPIA WORLD CONGRESS AMSTERDAM NOV 18-19
« News feed