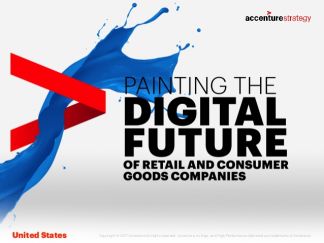 NEWS: The Digital Future of Retail and Consumer Goods Companies
18-09-2017
The first Keynote at this year's AIPIA Congress takes us to the heart of one of the key drivers of active and intelligent packaging implementation. The retail and consumer goods industries will change more in the next 10 years than they have over the past 40. One primary force is responsible—digitalization—and it has already begun.
Today retailers have a new sense of urgency when it comes to harnessing technology and it's not just about having a great website or online store, either. Effective digitalization in retail involves the in-store experience. For consumer packaged goods (CPGs) there has never been a more disruptive time with changing consumer habits, e-commerce and other external influences re-shaping the space fundamentally.
Our speaker Stephane Pique Digital Transformation Senior Manager at Accenture will explain that digital wave is underway that could bring a cumulative US $2.95 trillion in operating profits by 2025 for the retail industry. His company sees four main drivers of success—actions leading companies can take—through 2025 that are critical for consumer companies. All are powered by digital, the key tool industry leaders will use to transform themselves for the next decade and beyond.
Stephane is part of the global IoT Connected Operations team and leading Accenture Strategy's global Connected Supply Chain offering. He started working with RFID in 1993 and with the Internet of Things (IoT) in 2009 and is now a recognized expert in those fields.
He says the Digital Revolution has clearly started and will change everything around us. The way we live, the way we work and the way we interact will never be the same again.
Find more information on Stephane's presentation here!
News overview