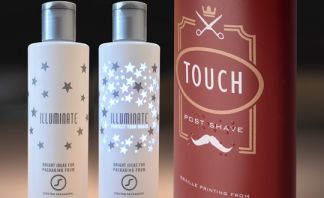 NEWS: Socially Responsible Packaging with a Purpose
05-12-2017
Spectra Packaging Solutions has developed a range of products designed at giving brands packaging with a purpose as part of their social responsibility initiatives, it is reported by Packaging News. The UK based manufacturer has introduced Illuminate, a print finish that is aimed at brands seeking an anti-counterfeiting packaging solution.
Illuminate is a print offering that glows brightly under ultraviolet light, yet isn't easily visible under normal lighting conditions, providing reassurance against today's sophisticated product counterfeiters.
As well as Illuminate, Spectra has also introduced Touch, a tactile print solution that gives brands the opportunity to add Braille to their packaging.
Dots can be printed directly onto the surface of the bottle using extremely accurate control measures, which means the height of the Braille alphabet remains consistent throughout the packaging run without the need for custom tooling.
Jonathan Powell, sales director at Spectra, said: "We firmly believe packaging should not only look great, it should also make a difference to the end-user. These two ground-breaking offerings provide solutions that can make a difference with social responsibility in mind."
News overview