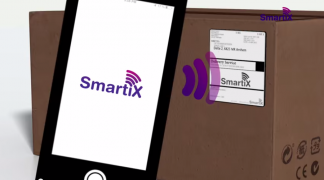 NEWS: Smartix boosts Internet or Packaging with NFC concept
21-10-2017
Smartix, a concept developed by Bunzl, has given its intelligent packaging solution a significant boost to the development of the Internet of Packaging, it says. Using Near Field Communication (NFC) communication technology, which is available with virtually any smartphone, the application brings the "Internet of Things" to packaging a lot closer, according to Bunzl.
With this concept, consumers can scan a NFC label on the package, after which the SmartiX app will gain access to the customer's personal, secure order information. The app allows the customer to find order and product information and he, or she, can start the return process, post a review, and set up a chat with customer service.
By mid 2018 customers will be able to pay directly with the app. Via Smartix, the customer immediately contacts the seller of his product, which benefits his buying experience. Also for the retailer, the benefits of Smartix are evident. The acceleration of the return process is one of the most important factors: the direct link with the customer through the NFC label allows direct identification and matching of return products, which means a major step in automatically processing return orders and optimizing the logistics process, Bunzl explains.
Another major advantage of this communication method is the ability to personalize the purchase experience. "Consumers find fast and personal service ever more important. Thanks to the Smartix label on their packaging, retailers can remotely provide an optimum experience, "said Rob Wennink, Bunzl's general manager. Also, the possibility of direct wireless payment the system currently operates will provide the retailer with unmistakable benefits, it claims.
At AIPIA Congress 2017, Smartix will demonstrate a pilot on Verzendverpakkingenshop.nl, showing all the ins and outs of the product and the technology behind it.
News overview