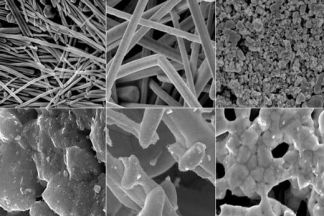 NEWS: Silver Nanowire Inks Open Up Substrate Possibilities
13-02-2017
Printed electronics, which can be used on a wide scale in devices, including RFID tags, currently have one major drawback: for the circuits to work, they first have to be heated to melt all the nanoparticles together into a single conductive wire, making it impossible to print circuits on inexpensive plastics or paper. By suspending tiny metal nanoparticles in liquids, Duke University scientists are generating conductive ink-jet printer "inks" to print inexpensive, customizable circuit patterns on just about any surface.
A new study by Duke, based in North Carolina, USA, shows that tweaking the shape of the nanoparticles in the ink might just eliminate the need for heat. Duke University chemists have found that silver nanowire films like these conduct electricity well enough to form functioning circuits without applying high temperatures, enabling printable electronics on heat-sensitive materials like paper or plastic.
By comparing the conductivity of films made from different shapes of silver nanostructures, the researchers found that electrons zip through films made of silver nanowires much easier than films made from other shapes. In fact, electrons flowed so easily through the nanowire films that they could function in printed circuits without the need to melt them all together.
The nanowires had a 4,000 times higher conductivity than the more commonly used silver nanoparticles that you would find in printed antennas for RFID tags," said Benjamin Wiley, assistant professor of chemistry at Duke. "So if you use nanowires, then you don't have to heat the printed circuits up to such high temperature and you can use cheaper plastics or paper."
Silver has become a go-to material for making printed electronics, Wiley said, and a number of studies have recently appeared measuring the conductivity of films with different shapes of silver nanostructures.
The resistivity of the long silver nanowire films is several orders of magnitude lower than silver nanoparticles and only 10 times greater than pure silver. The team is now experimenting with using aerosol jets to print silver nanowire inks in usable circuits. Wiley says they also want to explore whether silver-coated copper nanowires, which are significantly cheaper to produce than pure silver nanowires, will give the same effect.
News overview