Robust RFID label for reliable connectivity
| 24-01-2020 |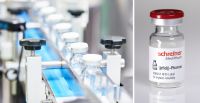 Connectivity and Integrity of the Supply Chain, being two hot topics of the pharmaceutical industry, will be addressed by Schreiner MediPharm at this year's Pharmapack, to be held shortly in in Paris. The pharma label specialist will present a special product innovation: a Robust RFID-Label delivering reliable end-to-end functionality from production to final use, it says.

Equipping pharmaceutical products and medical devices with RFID-Labels results in smart devices that help optimize processes and enhance ease and safety of use, according to the company.
Extreme robustness and reliable performance of the RFID-Labels throughout the various processing stages and across the entire supply chain are prerequisites for achieving these objectives. This enables interaction between the user and the pharmaceutical manufacturer, and communication between the product and a medical device:. Particularly critical to ensuring robustness is the label's design.
The new Robust RFID-Label from Schreiner consists of a label-integrated RFID tag that is secured by the label's special construction. So, potential damage to the RFID chip, for instance due to mechanical impact during the manufacturing and handling processes, can be avoided. This guarantees optimal end-to-end performance of the RFID chip from production to final use – especially on round containers with narrow radii.
Schreiner can customize the label's design to suit the respective application and pharmaceutical manufacturing process.
« News feed