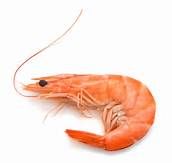 NEWS: Recycled Prawn Shells can Save Egyptian Waste and Food
01-02-2017
Bioengineers at The University of Nottingham in the UK are working on the use of shrimp shells (Chitosan) to make biodegradable shopping bags, as a 'green' alternative to oil-based plastic, and as a new food packaging material to extend product shelf life.
The new material for these affordable 'eco-friendly' bags is being targeted for Egyptian conditions, as effective waste management is one of the country's biggest challenges. So Nottingham's Faculty of Engineering is leading the research in partnership with Nile University in Egypt.
Natural biopolymer products made from plant materials are a 'green' alternative growing in popularity, but with competition for land with food crops, it is not a viable solution in Egypt. This new project aims to turn the shrimp shells, which are a part of the country's waste problem, into part of the solution.
Use of a degradable biopolymer made of prawn shells for carrier bags would lead to lower carbon emissions and reduce food and packaging waste accumulating in the streets or at illegal dump sites. It could also make exports more acceptable to a foreign market within a 10-15-year time frame. All are priorities at a national level in Egypt.
The research is being undertaken to produce an innovative biopolymer nanocomposite material which is degradable, affordable and suitable for shopping bags and food packaging. Chitosan is a man-made polymer derived from the organic compound chitin, which is extracted from shrimp shells. The dried chitosan flakes are dissolved into solution and polymer film made by conventional processing techniques.
Chitosan is the subject of several development studies for food packaging which extends shelf-life (see previous newletters). It was chosen for this project because it is a promising biodegradable polymer already used in pharmaceutical packaging due to its antimicrobial, antibacterial and biocompatible properties. The second strand of the project is to develop an active polymer film that absorbs oxygen.
The research aims to identify a production route by which these degradable biopolymer materials for shopping bags and food packaging could be manufactured.
News overview