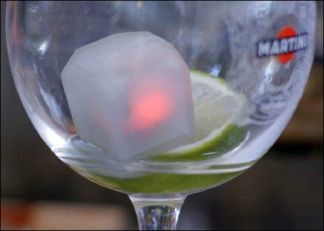 NEWS: Ready for a Top Up? The Ice Cube Knows!
31-10-2016
Martini introduced a novel experience for people visiting its pop-up bar at the recent Italian Grand Prix. They could opt for a drink with an intelligent ice cube containing a Bluetooth beacon and sensor that could not only cool their beverage, but also order the next one for them. It was first tested earlier this summer at a bar in Rome, on a limited basis.
The Smart Cube, designed and provided by UK based creative agency AMV BBDO, detects when a glass is empty and automatically triggers a reorder of that drink, while also enabling bar personnel to quickly locate an individual whose drink requires replacement.
Each Smart Cube emits a unique color combination of LED light. The cube contains built-in capacitive liquid sensors, a Bluetooth Low Energy (BLE) beacon, an antenna, two watch batteries, an on-board processor and LED lights, says James Rowley, AMV BBDO's director of creative technology. The device transmits data to an iPad, installed at the bar, that is running an app from AMV BBDO.
When a patron orders a drink, the bartender asks that individual if they would like to use the Smart Cube system and thereby automatically receive a second drink once the first is finished. If they agree, the patron provides their name, which is entered into the app on the bar's iPad, along with the ID number printed on the Smart Cube. Each cube has a short number printed on it (such as 48) that is linked in the app's related content-management software on a cloud-based server, with the longer ID number being transmitted by the that cube's Bluetooth beacon. The patron's name is then linked with that particular cube in the software.
REGISTER FOR
AIPIA CONGRESS NOW
News overview