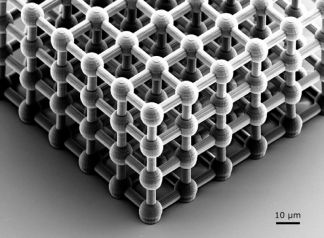 NEWS: Printed 3D Nano-structures to Replace 2D Hologram Tags
11-12-2017
German researchers have come up with an anti-counterfeit technology based on 3D micro-printed structures that, they say, could be used in place of conventional 2D features like holograms, according to a report appearing in Securing Industry.
Researchers from optics company Zeiss and Karlsruhe Institute of Technology (KIT) – which has published a paper on the approach in the journal Advanced Materials Technologies – created the security features using a technique called multistep 3D optical laser lithography using a device developed by KIT spin-off company Nanoscribe.
The microstructures take the form of a combination of an acrylate scaffold into which fluorescent quantum dots are introduced to create a unique pattern that can be seen using optical techniques such as 3D con-focal fluorescence laser scanning microscopy, which would require the use of specialised equipment. The new security features have a side length of about 100 µm and are barely visible with the eye or a conventional microscope.
"Today, optical security features, such as holograms, are frequently based on two-dimensional microstructures," says Prof Martin Wegener from KIT's Institute of Nanotechnology. "By using 3D-printed fluorescent microstructures, counterfeit protection can be increased."
"Security features produced in this way are not only of individual character, but also very complex in manufacture. This makes life difficult to forgers," according to Frederik Mayer of KIT. The technology could be embedded in foil to serve as security tags for branded products such as pharmaceuticals or automotive parts.
News overview