Plastics recycling trial could lead to high value feedstock
| 29-10-2019 |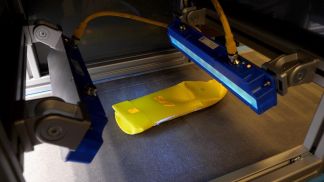 Leading UK compliance scheme Ecosurety is backing the test of a technology which could create a high-value plastic feedstock from recycling by consumers. Polytag would enable Brands to tag and trace their packaging at the point of manufacture and, with the help of consumers, 'trace' it, so it can be isolated from the recycling waste stream and reprocessed in batches of identical-grade and colour plastic. Reports about the trial were reported in several British journals including The Grocer, Materials Reclamation Weekly and Packaging News.
There will be a 40-day trial among 60 homes in Wirral, North West England, led by waste conversion specialist Econpro. The Polytag technology works using a printing process to 'tag' each item with a unique PAC code during manufacture. This tag is then stored on a Polytag database until paired up with the same code 'traced' by the consumer through a mobile phone app with which they can scan PAC codes.
Shoppers will be encouraged to scan packaging using the mobile app (with retailers and suppliers offering incentives), and will be given instructions on how to clean, prepare and return the packaging.
Polytag said the process seeks to create a high-grade plastic feedstock, at lower cost and with a lower environmental impact than those now available. Plastic recycled using the system will be taken to reprocessing plants producing high-grade pellets or granulate, which will be returned directly to the producer for reuse.
Chief executive of Polytag, Phil Sutton said, "Only 45% of all plastic packaging is recycled here in the UK, and yet production is expected to increase to over a million tonnes by 2030. Polytag seeks to tackle the pressing environmental issue caused by plastic and other packaging by helping to build a more circular recycling system that maximises the value of the materials being used. "
"We are delighted that Ecosurety recognises the need for investment in innovative recycling technologies through its financial support of this trial," he added.
Jon Brookes, Ecosurety head of partnerships, said: "The potential disruptive impact of Polytag on the current recycling system is significant." The trial, which commenced at the end of October, will also include plastic bottles. It is hoped it could work alongside plans for a deposit return scheme in the UK, or even be used to help develop an alternative model.
CONGRESS 2019 FOOTNOTE: The Coca Cola Challenge at this year's AIPIA World Congress is all about consumer awareness and action on recycling. Come and listen to how Smart Packaging technologies – JUST LIKE THIS ONE and the DIGIMARC BARCODE - can help to achieve a more sustainable world!
SEE AT AIPIA WORLD CONGRESS AMSTERDAM NOV 18-19
« News feed