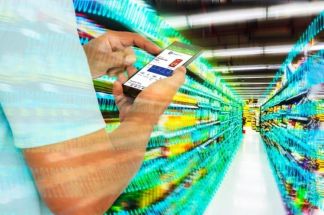 NEWS: Partnership Brings 'Internet of Packaging' to SmartLabel
08-01-2018
A US provider of QR Code mobile technology services, Scanbuy, has teamed up with AIPIA member Kezzler to bring the internet of packaging (IOP) to consumer packaged goods companies and retailers. Kezzler provides business services for product serialisation, tracking and tracing.
The technology uses SmartLabel QR Codes to provide product traceability, supply chain optimisation, and marketing insights, they say. IOP enables product serialisation 'on a mass scale, giving every product a unique identity in the connected world'.
A Scanbuy QR Code placed on a product package can link consumers to the respective SmartLabel landing page via a simple scan. When the same code is scanned for a business operation, companies gain full distribution visibility and information about all stages of the product lifecycle through the Kezzler platform. The companies say the technology offers a range of help for retailers, including: shelf-life management, anti- counterfeiting and authentication, distribution visibility, and recall management.
Chief marketing officer at Scanbuy, Maryann Moschides said, "As the SmartLabel QR Code package expands across product portfolios, it is important that clients future-proof their investment in SmartLabel, by solving product traceability and visibility using the exact same bar code. No longer will a product require a consumer facing barcode and an internal facing bar code."
Kezzler CEO Thomas Körmendi confirmed, "Serialising or digitalising products is currently being implemented in a number of regulated industries to protect and inform consumers. We see a significant uptake across consumer products, bringing opportunities for brand owners, retailers and consumers."
"Activating SmartLabel on packages is a step toward providing richer information in the digital world and building trust through greater visibility. Our partnership with Scanbuy has the potential to create a multi-purpose role for every manufactured item. Our collaboration makes this evolution seamless," he added.
News overview