New security labels offer integrated solutions
| 04-06-2020 |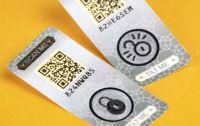 AIPIA member SICPA, an international product security, revenue realization and track and trace solutions company, headquartered in Switzerland, has announced the release of new, integrated product security labels with innovative, counterfeit-resistant visual effects; secure traceable codes; and covert features to protect brands and consumers.
To enable the fast and reliable authentication of genuine products, SICPA's new security labels utilizes innovative technology to effectively capture consumers' attention and which can be customized to promote specific symbols or brand names supporting an array of designs, colours, and visual effects, according to the company.
Delivered in the form of a product security label, the new solution empowers consumers, businesses, and government officials to easily and reliably validate authentic goods and products, says SICPA. The integrated labels can include tamper-evidence, secure 2D codes, as well as other overt, covert and forensic security features offered by the company. Brand owners benefit from multi-layered security features to support consumer engagement, supply chain controls and investigation and enforcement efforts.
"Produced using propriety technologies and SICPA's fully controlled supply chain, this new solution provides business and governments both unrivalled security features and unique customization opportunities," says Karen Gardner, chief marketing officer for the company.
"Taken together, this allows customers to not only achieve optimum brand and product protection, but also to leverage a unique marketing opportunity – creating a counterfeit-resistant marking that makes it easy for consumers to identify authentic products," she added.
The integrated product security labels can be used to authenticate pharmaceuticals, electronic and automotive components, apparel, food and spirits, and other high-end consumer products. Research from the Organisation for Economic Co-operation and Development (OECD) showed that the value of counterfeit goods traded internationally has increased by 154% between 2005 and 2016, from $200 billion to $509 billion. It is estimated that, by 2022, counterfeit goods will displace more than $1 trillion in global sales from legitimate companies.
« News feed