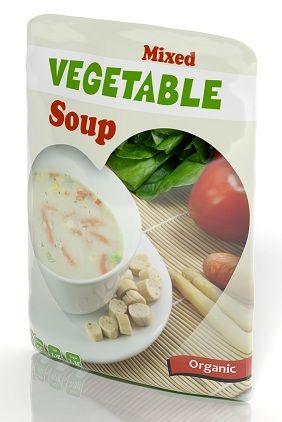 NEWS: New Resin Additive 'Can Double Shelf-Life' of Food
09-10-2017
Mitsubishi Gas Chemical America now offers an oxygen-absorbing technology for pouch packaging that can more than double the shelf life of some food products. The technology keeps food looking and tasting fresher for longer on store shelves and consumer pantries, resulting in less food wasted throughout the supply chain, says a report in Plastics Today.
The technology is embedded as a film layer in the pouch, and safely extends and protects original food flavours, aromas and textures. It is available as a resin for the first time in the United States and can be combined with any barrier film to maximize shelf life. It protects food from outside oxygen while absorbing the oxygen inside a sealed food package, creating an atmosphere in which oxygen concentration is reduced to 0.1% or less, it is claimed.
It is ideal for retort packaging applications and can be used with products such as soups, sauces, processed fruit, dips, protein bars, prepared meals and wet pet foods. It can also preserve natural, organic and gluten-free products that are particularly vulnerable to food spoilage without the need for preservatives or additives, according to Mitsubishi Gas Chemical.
"Food companies face a challenge in reducing food waste while balancing consumer demands for fresh, natural foods," says Sean Hael, manager, marketing and sales at MGC. "Our proven shelf-life extending technology offers brands a solution."
The iron-based absorber does not replace any layers, but is used in conjunction with a barrier film. There are two types of absorbers available, which have applications in different markets. The standard barrier pouch with a sachet, which is usually used for dry, more sensitive products that need absorption quickly. The sachet-and-barrier-pouch combination can be less expensive, but sachets cannot be used with liquid applications.
An oxygen-absorbing resin is usually used for wet and liquid products, and for applications where there is little to no room for a sachet. The resin can also be used with or instead of nitrogen flushing. Unlike oxygen, nitrogen doesn't react with food. However, nitrogen flushing cannot lower oxygen levels in a food package to zero.
News overview