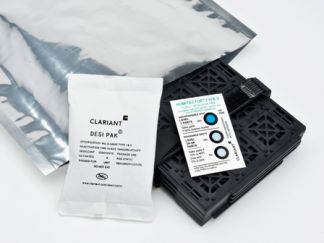 NEWS: New Humidity Indicator Maintains Integrity of Dry Packs
25-06-2018
Clariant has introduced the Humitector type 2 non-reversible humidity indicator cards for SMD dry packing. The new humidity indicator cards have been developed to maintain the integrity of dry packing, which protects moisture-sensitive devices during shipment or storage. The cards contain low-halogen and free from cobalt dichloride, a substance of concern to the European Chemical Bureau
Humitector cards are said to be the only low-halogen cobalt dichloride-free humidity indicator cards to combine multiple and reversible colour humidity indicators with a patent-pending and non-reversible 60% humidity indicator. The cards offer verifiable colour change accuracy and meet or surpass applicable European Chemical Bureau regulations, according to the company.
Clariant cargo and device protection head Michelle Martin said, "Clariant developed these non-reversible humidity indicator cards because surface-mount suppliers and device manufacturers said that they wanted greater assurance in the integrity of dry packs for moisture-sensitive devices. The 60% non-reversible indicator on these new cards makes it easy to see if the package contents have been exposed to high levels of moisture for a prolonged period of time."
According to the company, the users of moisture-sensitive and reflowable surface mount devices have little choice when using humidity indicator cards in protective packages, as per the J-STD-033 standard.
Clariant Cargo & Device Protection provides a range of desiccants, container desiccants, oxygen absorbers, and humidity indicator solutions, which will allow to protect goods from moisture and oxygen across the entire supply chain. Earlier this month it introduced Sorb-It Pharma desiccant bags, which can be used for bulk pharmaceutical products.
News overview