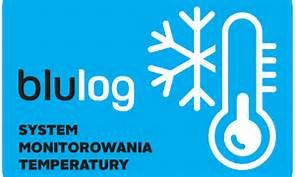 NEWS: New Data Loggers Offer Improved Functions and Performance
10-10-2017
Blulog, which specializes in cold chain optimization solutions, has launched a new version of its remote, real-time monitoring system. Its RF data loggers, used by more than 150 companies in 50 countries, enable remote and real-time monitoring of cold rooms, warehouses, refrigerated trucks and other storage areas of temperature-sensitive products.
The company will show these, and other examples of its cold chain monitor range, at its booth during the AIPIA Congress.
The latest data loggers can now transmit temperature data via radio frequency to a next generation hub, whose range, in free space, can reach now up to 1,000 meters. The new, high performance hubs are also less energy-consuming and can be provided with a 24h backup battery.
The autonomy, memory and calibration (+/- 0.3°C) are guaranteed for 3 years, which corresponds to the battery life. The Plug & Play system allows very simple and quick installation, says the company. New web and mobile apps ensure remote monitoring is possible.
The BluConsole app enables real-time, simultaneous or remote monitoring using any kind of device connected to the Internet: smartphones, computers or PDAs. In case of temperature excursions clients receive alerts via email or SMS. Some new functionalities have been added to this app recently. So it is now possible to see the temperature data expressed either in Celsius or Fahrenheit. And the ID number of the logger can now be linked to the ID number of the transporting vehicle.
PDF reports were also modified: the graph is now bigger and there is more logistic information, as well as location data. A new model for a data logger with external probe was also added. And users can choose between different language versions, including Spanish or Portuguese.
A new maintenance mode allows deactivation of alerts during given time periods (for instance during the night). There are also new options for personalization available. The company has also added several new mobile solutions to ensure continuous monitoring from almost any location.
News overview