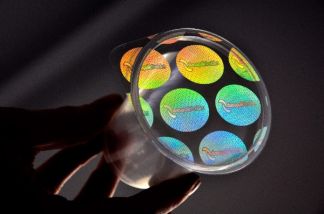 NEWS: Nano-structured Holograms Boost Anti-counterfeit Capabilities
28-02-2018
Some eye-catching nano-structured holograms from Schur Flexibles now have built-in anti-counterfeit features. The patented anti-counterfeit film concept allows the building of a unique holographic effect into packaging. There is no use of inks, varnish or solvents involved, says the company.
The hologram is visible to the end-user without the use of any special device. It makes premium and luxury products stand out whist also giving it authentic anti-counterfeit capability, it claims. The hologram is made with nano-structured polymer melt imprinting which reflects the light in specific colours and patterns to create the unique nano-structure. The nano-structure is created in the extrusion layer. Different extrusion polymers can be used to allow for a wide range of material constructions. The holograms can be used on both transparent or metallized backgrounds.
For transparent solutions, no printing or post-metallization is required and the image is visible from both sides. Metallized solutions deliver higher visibility of image, says Schur. The technology can be used as an anti-counterfeit hologram on the inside or outside of a pack or as an eye-catching design element on the outside of a lid or wrapper. There is also the possibility to create a hidden anti-counterfeit feature of extreme detail or create a full coverage wallpaper design effect.
News overview