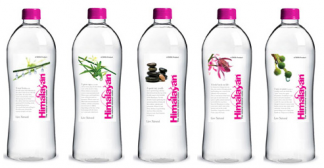 NEWS: Mountain Music – Blowing in the Bottle
18-04-2018
NourishCo Beverages an Indian mineral water supplier has introduced a limited-edition 'sound cap' for bottles of its Himalayan Sparkling brand. These are designed to play various sounds of wind from the Himalayas when you twist open the cap.
The technology has been designed and developed by J. Walter Thompson (JWT) India. It allows the cap, integrated with a built-in chip, to make sound when opened, which stops when the bottle is closed again.
The technology allows the bottle to play the sounds of "whistling winds, melting mists, drop by drop percolation and rare rock surface liquid percussions", according to JWT, which recorded them by radio transmitters and underwater stream synthesizers.
Sound cap features an embossed logo of Himalayan which is coloured with shades of silver and is presented in a pyramid shaped case exclusively designed for the 'Sound of Water' bottle. These limited-edition bottles are only available at select outlets in Mumbai and New Delhi.
Kuttiah K S, vice president and head of marketing at NourishCo said, "We are extremely excited to introduce an unparalleled innovation that captures the sound of the wind from the upper reaches of the Himalayas in the bottle, thus creating an immersive and a unique sensorial experience for our consumers, by transporting them imaginatively to the source of our water."
Senthil Kumar, chief creative officer, JWT India added, "This idea took our team over two years to develop and was implemented through intensive collaboration with sound engineers, time lapse trackers and product design experts across the world. The R&D team at NourishCo has painstakingly ensured that the design and the experience is elevated within the product environment."
All about A&IP Summit
June4-5, Jersey City
News overview