More Australian wine & spirits Brands use A&IP
| 08-08-2019 |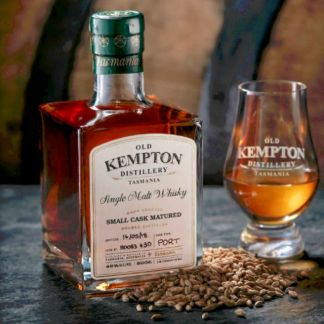 The Old Kempton Distillery (OKD), located in Kempton, Tasmania, is utilizing NFC technology to combat counterfeits, as well as to improve the branding of its high-value whiskey, gin and other liquor products as the company expands its market share across Australia and around the world.
The NFC solution, provided by AusNFC, employs HID Global's Trusted Tag solution to uniquely identify each bottle and deliver web-based content from OKD about the company and the products. Users can interact via their smartphone. Content can include videos, membership offers and links to websites.
AusNFC is a startup systems integrator that aiming its technology, initially at the honey and whisky markets. "In the near future, other areas will involve fresh food such as seafood," says Larry Hower, AusNFC's CEO. As well as the tag the company has developed software that captures and displays content, including messaging and graphics for consumers to interact with.
With the NFC technology, a bar or restaurant owner can confirm that every bottle is authentic. But NFC can also benefit consumers since they, too, can confirm authenticity and engage with the brand.
The company's long-term plan, OKD owner Robbie Gilligan explains, is to provide NFC labels on all of its exported whisky and gin. "This will allow us to engage with our overseas customers," he says, "and build the brand overseas."
In another A&IP application in Australia, family-owned Taylors Wines has undertaken a total portfolio refresh to mark its 50th anniversary, updating its Estate, Jaraman and St Andrews labels and adopting augmented reality (AR) to drive engagement and enhance the wine drinking experience. In addition it has incorporated an authentication feature via an NFC tag embedded in the screwcap of its premium range.
Via the new Taylors Wines mobile app [available on both the App Store and Google Play], wine lovers can discover the history behind the 50-year-old winery through an AR animation feature. The app was developed in collaboration with digital agency Talkin' Things. It allows wine drinkers to unlock the AR experience using the scan feature which, on recognising the bottle, automatically initiates the animated AR feature.
Taylor also alluded to plans to take the AR experience to another level in future developments, Speaking again to PKN, product development manager at Taylors Wines, Pieter Klein, said that the next layer of AR activations could roll out as early as October this year.
In addition to the label scanning feature, purchasers of The Legacy 2014 (Taylors new super-premium Cabernet blend) will be able to access the 'verify' feature to ensure the wine is authentic and unopened, using a unique NFC chip installed on the screw cap to communicate.
SEE AT AIPIA WORLD CONGRESS AMSTERDAM NOV 18-19
« News feed