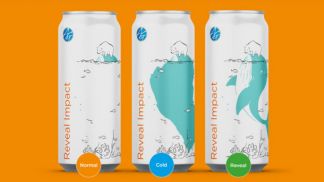 NEWS: Message in a Bottle? No, on the Can!
23-08-2017
Ardagh Group has come up with a nice twist for a thermochromic ink application with a new solution for the beverage market. Printing on aluminium cans uses two different thermochromic inks, which both develop the same colour when cooled down. However, once the can warms up again, one colour disappears quicker than the other to reveal a hidden message for the consumer. The revealed message supports highly targeted marketing activities.
"Reveal Impact is a further development of Ardagh Group's thermochromic inks, allowing beverage brands to communicate with customers via an out-of-the-box solution," said Nikola Kerkhoff, product manager at the company. "The inks not only indicate the beverage's temperature and thus the ideal drinking moment, but also facilitate the interaction with consumers."
This product allows tailored messages to be delivered, such as promotional slogans. When the inks change colour in the consumer's hand, both the drinking experience and the communication blend into one unique consumer moment, according to the company. It can introduce a moment of suspense during parties or social events.
Reveal Impact broadens Ardagh Group's portfolio of can finishings. "Alongside customised printing, embossed and interactive packaging, we want to take the sensory experience to a new level," explains John Reed, product application manager. "In this respect, the development comes as a logical addition to our portfolio, as it ensures compelling packaging at the POS thanks to the latest ink developments."
The company is currently in negotiations to bring the product to market. It sees opportunities in both the beer and soft drinks sectors. But the Reveal Impact is suitable for all types of drinks requiring a cooling process prior to consumption. Nicola Kerkoff believes, "The possibilities and benefits are endless for all beverage types to engage customers at the point of consumption."
REGISTER FOR AIPIA WORLD CONGRESS NOW
News overview