Major Italian beer brand leverages blockchain traceability
| 27-05-2021 |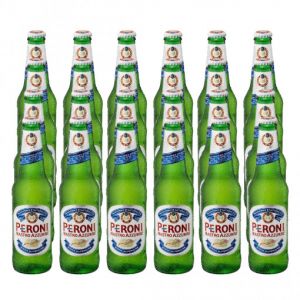 EY, better known to some as Ernst & Young, has announced that Italian beer brand Birra Peroni, part of the Japanese Asahi Group, is now using EY OpsChain Traceability on the public Ethereum blockchain for supply chain traceability. The solution mints non-fungible tokens (NFTs), providing a unique, digital certificate of ownership for each batch of beer.
These tokens have gained popularity for sports memorabilia and art, but they are also used to track goods. Luxury brands, especially, want to demonstrate an item is authentic. Food and beverage brands are increasingly keen to do that. Apart from proving an item isn't counterfeit, blockchain is able to provide end-to-end traceability. This addresses the rising consumer demand to know how and where goods are sourced.
"For Birra Peroni, the bond with the agricultural supply chain and the quality of our 100% made-in-Italy malt are fundamental strategic assets," explained Federico Sannella, corporate affairs director, Birra Peroni. "We believe that sustainability is deeply related to the respect for the raw material and we wanted to bring this value alive to our consumers, allowing them to follow the journey of the malt from the field to the bottle."
In the food sector, blockchain traceability is being leveraged by three distinct groups. Firstly high value items such as seafood and meat. Then items which carry food safety concerns, such as lettuce, which is prone to E.coli contamination. Now it is gaining traction in a third category, upmarket brands such as Birra Peroni. It is not the first beer brand to look at tracing for sustainability. AB InBev, which owns Stella Artois and Budweiser, is piloting blockchain to demonstrate barley sustainability, via a QR code on the packaging.
EY OpsChain Traceability is designed to address lengthy supply chains and integrate with enterprise resource planning (ERP) systems via APIs. The consultants have also requested an update to Ethereum to track the physical location of assets more easily.
"We envision a future where everything from inventory to purchase orders to invoices can be tokenized and integrated into a decentralized finance and business operations ecosystem," said Paul Brody, EY global blockchain leader.
Each NFT is recorded on the blockchain, digital ledger distributed around lots of different users instead of being held centrally, with each transaction time stamped and encrypted to prevent tampering, as a product moves through the supply chain or is purchased.
« News feed