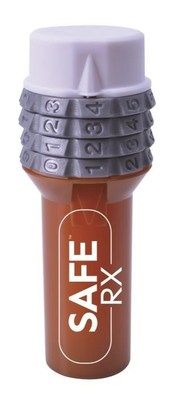 NEWS: Locking Cap Design Prevents Drug Pilfering
10-12-2017
A new tamper evident and pilfer resistant pharmaceutical pack is not only effective but has a unique combination lock feature to give it a strong visual impact. Launched in August, Secure Medication Systems LLC's Safe Rx® line of Locking Prescription Vials (LPVs™) recently won a US pharmacy industry's annual award for innovation in its product category. The company is raising capital to support the scaling of its operations.
LPVs, as the bottles are called, have a lid that functions like a combination bike lock in order to reduce pilfering. To remove the cap, users must align each combination number—chosen by the patient, but programmed by the pharmacy—with the arrow at the top.
Physician-designed, the packs prevent pilfering, the number one source for teen drug abuse and, according to company estimates, would prevent almost 6 million teens from initiating abuse over ten years, if implemented nationwide. Safe Rx® LPVs™ are designed for use in high volume dispensing and are engineered for extremely low incremental fill time and easy workflow adaptation, says the company.
"This award is a testament to our commitment to a future in which caps and closures have security standards that adequately reflect the product's safety risk, as opposed to the single child resistant standard we have today," said Milton Cohen, president & CEO.
By specification, child resistant cap & closure standards, established almost 50 years ago, only prevent access by 5-year-olds and younger and cover a broad universe of products with a very wide variance in product safety risk.
News overview