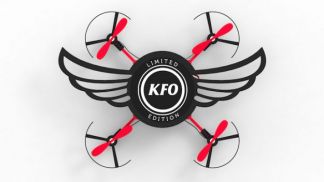 NEWS: Kentucky FLYed Chicken
31-01-2018
Those clever folk at KFC are always coming up with new ways to promote their Finger Lickin' products. Sadly most of them are restricted to just a short time span and only in a particular region or market. The latest, a drone made partially from the box containing it's smoky grilled wings, was only available in India for two days in late January. But its so cool we had to feature it!
The DIY drone was only available with a few, very select boxes of the chicken wings (we like the choice of product!) Twenty-four lucky customers received the parts to assemble their own Kentucky Flying Object (KFO), designed by Drona Aviation. Step-by-step instructions were available online, in the form of a PDF and short video.
It seems that everything you needed to fly this UAV is in -- and also, part of -- the box. Just punch out parts and follow the instructions available online, then download the app to control your chicken flavoured aircraft. The drone is a typical quadcopter, but will always carry the distinct aroma of fast food chicken – a cunning, if somewhat expensive way to spread your message.
If you were passing through India in the last week of January and visited participating KFC stores in several of themajor cities, you might have walked out with a KFO drone. Or you could just wait a week to buy the product on the Colonel's official website!
"Food and technology are two things that keep us and our consumers excited," Luís Ruiz Ribot, chief marketing officer at KFC India, said, "To celebrate our new scrumptious smoky grilled wings, we are launching a limited-edition KFO box. It is super cool packaging that converts into a drone."
Kentucky Fried Chicken is no stranger to using technology and offbeat electronics, such as a Bluetooth keyboard on food trays, a take-out box that can recharge your handset and a meal box with built-in gaming controls. Let's hope there is more to come!
News overview