Its nearly Halloween: Spooky Snacks and Rum with Frightening Fun via QR
| 07-10-2021 |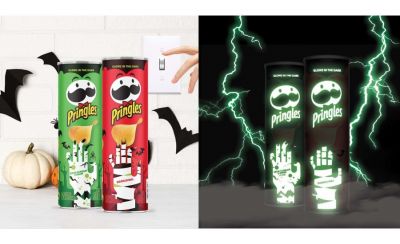 AIPIA is always looking out for seasonal applications of Smart Packaging technology. So it was good to find one of the big Beasties of the snacks market, Pringles, is getting into the spirit and putting a costume on its iconic can to celebrate everyone's favourite spooky holiday, Halloween. The Brand has released new limited-edition Glow-in-the-Dark cans in two Halloween flavours: 'Sour Scream & Onion' and 'Oooriginal'.
The chips offer snack lovers the perfect salty treat during a season where 'treats mean sweets' usually, while also doubling as the ultimate spooky centrepiece for any Halloween festivity. Whether consumers are looking for a seasonal snack, prepping some fearsome party bites, lining their streets for the ultimate trick-or-treating experience, these Pringles Glow-in-the-Dark cans shine a little light – and lightheartedness – on family celebrations during the ghoul season, according to the report in Candy Industry.
SEE DIGITALIZATION IN PACKAGING AGENDA HERE
The cans feature a hand wrapped up like a mummy and holding a Pringles chip. When consumers put the cans in the dark, the chip disappears and both the mummy hand and the Pringles logo glow.
"We're thrilled to give the classic taste of Pringles crisps a fun seasonal spin and bring some unnecessary genius to Halloween with our new Glow-in-the-Dark cans," said Gareth Maguire, senior director of marketing for Pringles. "This spooky take on some of our favourite Sour Cream & Onion and Original flavours is a great way to give our fans something to get excited for this Halloween season."
While we are not sure of all the technical specs it seems certain that the design is based on light sensitive/UV reacting inks. The limited-edition Pringles Glow-in-the-Dark cans were available across the USA from September, while supplies last.
Elsewhere UK-based alcoholic drinks producer, Halewood Artisanal Spirits, has launched a spooky app-based game in time for Halloween to promote its spiced rum brand, Dead Man's Fingers.
In partnership with digital experiences studio, Appetite Creative, the award-winning rum brand, has been paired with a 'fruit machine' app-based connected experience to drive website traffic and purchases. The new game, accessed via QR codes found on wooden cocktail stirrers served with the rum, offers users instant prizes including branded caps, t-shirts, beach towels and lanyards, bringing frightening interactive fun to customers this Halloween. The QR code game has been activated in over 700 pubs in the UK and will be live for the whole month of October.
« News feed